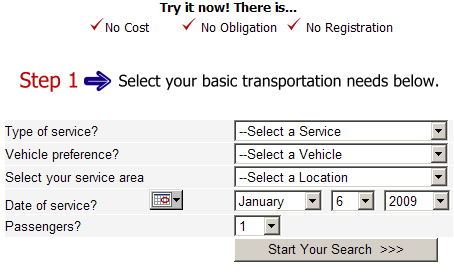 Click on any State for Rates and Local Operators' Phone Numbers.
Limousine Services Airport Town Cars Party Buses Hummer limos and more
Limo and Car Service, Airport Limo, Wedding Limousine, Vans, Sedans, Town Car, Airport Transportation, Party Bus and Limo Bus Direct!
Arizona Limos
- Phoenix Limos

Arkansas Limos

California Limos
- Burbank Limos
- LAX Airport Limos
- Long Beach Limos
- Los Angeles Limos
- Oakland limos
- Pasadena Limos
- Sacramento limos
- San Diego Limos
- San Francisco limos
- San Jose limos
- Santa Barbara Limos
- Santa Monica Limos
Florida Limos
- Boca Raton Limos
- Brevard County Limos
- Broward County Limos
- Clearwater limos
- Cocoa Beach Limos
- Dade County Limos
- Daytona Beach Limos
- Delray Beach Limos
- Destin Limos
- Fort Lauderdale Limos
- Fort Myers Limos
- Gainesville Limos
- Jacksonville Limos
- Key West Limos
- Kissimmee Limos
- Lake Worth Limos
- Martin County limos
- Miami Limos
- Naples FL Limos
- Orlando Limos
- Palm Beach limos
- Panama City Limos
- Pensacola Limos
- Port Canaveral limos
- Port St Lucie Limos
- Sarasota limos
- St Petersburg FL limos
- Stuart Limos
- Tallahassee Limos
- Tampa Bay Limos
Hawaii Limos
- Honolulu Limos
- Maui Limos
- Waikiki Limos
Idaho Limos

Illinois Limos
- Chicago Limos

Indiana Limos
- Indianapolis Limos

Iowa Limos
Louisiana Limos
- New Orleans Limos
Maine Limos
- Wyoming ME limos
Maryland Limos
- Baltimore Limos
Massachusetts Limos
- Boston Limos
Michigan Limos
- Detroit Limos
Minnesota Limos
- Minneapolis Limos
Mississippi Limos
- Jackson limos
Nevada Limos
- Las Vegas limos
New Jersey Limos
- Atlantic City Limos
- Newark Limos
New York Limos
- Albany Limos
- Buffalo Limos
- Long Island Limos
- Manhattan Limos
- Rochester Limos
- Westchester Limos
North Carolina Limos
- Charlotte limos
- Greensboro limos
Ohio Limos
- Cincinnati limos
- Cleveland limos
- Columbus Limos
Pennsylvania Limos
- Philadelphia Limos
- Pittsburg limos
Rhode Island Limos
- Newport Limos
- Providence Limos
South Carolina Limos
- Myrtle Beach SC
Tennessee Limos
- Nashville limos
Texas Limos
- Austin Limos
- Dallas limos
- Houston Limos
- San Antonio limos
- Galveston limo services
Utah Limos
- Salt Lake City Limos
Vermont Limos

Virginia Limos
- Fairfax limos
Alexandria VA Limo
Dulles Airport limo (IAD)
DCA Airport Limo
Washington Limos
- Seattle Limos

West Virginia Limos
Wisconsin Limos
- Milwaukee limos
1. Click on your State or City to see local limousine service providers' listings.
2. Click any of the listed limousine links to go to that website and and arrange for a car or get limo rates / quotes by phone.
! You deal with local limo companies directly and privately!
Save money, and time.
Our listed limousine companies provide a wide range of limousine and airport transportation services;
Hummer Stretch Limo,
Hummer H2 limo,
Stretch SUV limos,
Cadillac Sedan,
Stretch Cadillac limousine,
Navigator limo,
Bus,
Coach,
Party bus,
Prom limo,
Wedding limos,
Limo Bus Charters,
Special event transportation,
Convention Transportation
Group transportation
Bachelor party limos and buses,
Celebrity transportation,
Private car service,
and even Private Air Charters.